Hoorah to us! We've made it to ten years of our marriage still happy and committed to each other. It is a 2-day celebration for us. We did not go out on the actual day of our anniversary because it was a school day although my husband took a day off but we decided to go out on a weekend which happened yesterday and today.
We took our girls to Mainstay Farm as what we have already planned. We had such a blast there, plenty of great outdoor activities for the kids that really got them into using their energy. We make a tradition that we take a family photo each passing anniversary so, we made sure before we leave the farm, we will have our family photo which we did.
Second day was today, we went out to DSW shoe store and grabbed me two pairs of shoes, a pair of Nike running shoes (this is to encourage me to walk/workout someday, for now I will just let them sit in the closet) and flat Tommy Hilfiger sandals, after DSW, we headed for a dinner at a Hibachi and Sushi Japanese restaurant nearby. Weekend well spent with the family, I shall say!
Thankful to God for giving us another fruitful year of our marriage. Nothing is more consoling than a husband who said, "cheers to us for a happy marriage". It makes me glad inside even we've been together for a decade, he still feels that way! Marriage is hard work. It takes two to tango, if one fails, then I don't think it will work.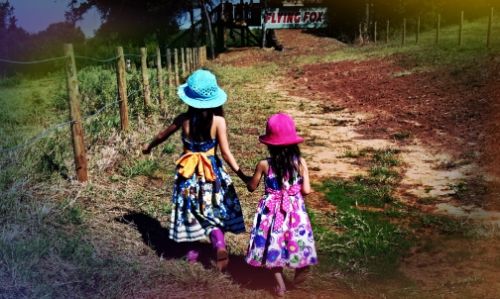 … us before dinner, photo below…